Meeting of H.H. Pope Tawadros II with H.H. Pope Francis I
His Holiness Pope Tawadros II, Pope and Patriarch of the See of St. Mark, Meets With His Holiness Pope Francis, Bishop of Rome and Supreme Pontiff of the Roman Catholic Church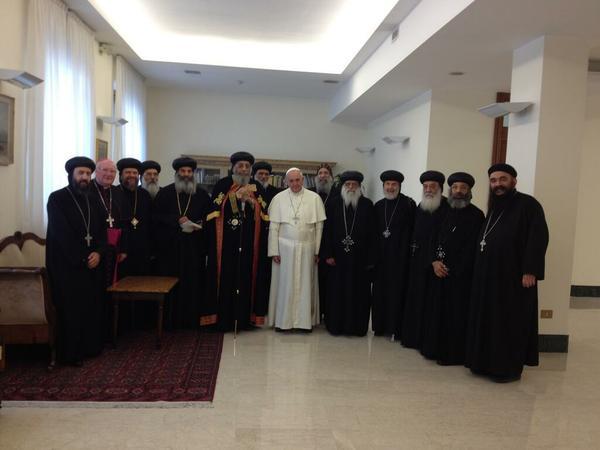 New York City, NY (May 9, 2013) – His Holiness Pope Tawadros II, Pope and Patriarch of the See of St. Mark and leader of the Coptic Orthodox Church, has met with His Holiness Pope Francis, Bishop of Rome and Supreme Pontiff of the Roman Catholic Church, earlier today in Vatican City. This was the first meeting of the two recently elected Church leaders and only the second Papal gathering in Rome in 1500 years. The last visit of a Coptic Pope to the Vatican occurred on May 10, 1973 when His Holiness Pope Shenouda III met with His Holiness Pope Paul VI (both departed) and signed an important Christological Declaration with the ambition to initiate ecumenical dialogue between the two Churches.
Pope Tawadros II and Pope Francis are scheduled to hold a shared prayer on Friday, May 10, 2013 followed by a reception with the Pontifical Council for Promoting Christian Unity and other dicasteries of the Roman Curia. His Holiness Pope Tawadros II will also visit the tombs of the Apostles Saint Peter and Saint Paul; and will devote the remainder of his visit to shepherd the Coptic Community in Rome.
This historical meeting brings with it the hope to strengthen ecumenical dialogue and the promotion of unity amongst Christians not only in Rome and Cairo, but worldwide. We pray for peace for our holy, universal and Apostolic Churches, for the world, and for grace, health, wisdom and security for His Holiness Pope Tawadros II and His Holiness Pope Francis.
The Full Text Transcript of His Holiness Pope Tawadros II's Address to His Holiness Pope Francis I [PDF]