For She Loved Much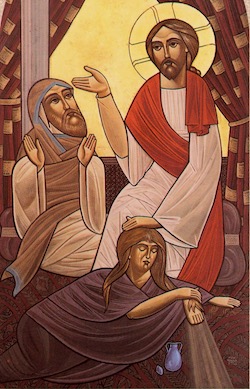 Beloved, read and find comfort in God's mercy. He forgave the offences of the sinful woman. He upheld her when she was afflicted. The Lord opened the eyes of the blind with clay, that he might see light. He granted healing to the paralysed man, who arose, walked, and carried his bed. He gave us the pearls – His Holy Body and Blood. He brought His medicine secretly and with them He heals openly. He wandered around the land of Judea, like a physician, bearing His medicine.
The Woman's Decision
Simon invited Him to the feast, to eat bread in his house. The sinful woman rejoiced when she heard that He sat and was feasting in Simon's house. Her thoughts gathered together like the sea, and like the large waves of the sea, her love surged. She beheld the Sea of Grace, how it had forced itself into one place. She resolved to go and drown all her wickedness in its large waves.
Because of her sins, her heart was bound with chains and tears of suffering. She began weeping and saying within herself, "Of what help is this fornication? Of what benefit is this lewdness? I defiled innocent ones without shame. I corrupted the orphan. Without fear, I robbed merchants of their merchandise. My greed was not satisfied. I have been like a weapon used in war, killing both good and bad. I have been like a storm on the sea, sinking many ships. Oh, how I wish I could have met and won just one man who could have corrected my lewdness! But, few are of God. Many are of Satan."
She began to change her outward appearance. She washed away her eyeshadow, which blinded her. Tears gushed forth from her eyes over her seductive makeup. She took off and cast away the enticing bracelets and jewellery of her youth. She took off and cast away her clothing of fine linen and the garment of prostitution. She resolved to go and clothe herself in the garment of repentance and reconciliation. She took off and cast away her decorated sandals. She directed her steps on the heavenly path.
She took up her gold in the palm of her hand and held it up to the face of heaven. She began to cry secretly to the One who hears openly, "This, O Lord, I have gained from my sins. With it, I will purchase salvation. This I gathered from orphans. With it I will win over the Lord of orphans."
The Woman Buys the Ointment
She took her gold and an alabaster flask and went forth quickly while weeping. She went to the perfumer. The perfumer saw her and wondered. He began questioning the harlot, "Wasn't it enough for you to corrupt our whole town? What is the meaning behind your clothing today? You took off your promiscuity and clothed yourself in modesty. Up until now, whenever you came to me, your appearance was different. You were dressed in fine linen and brought little gold. Before, you only asked for precious ointment for seduction. But now! Why are you dressed like this? Either clothe yourself according to your behaviour or buy ointment according to your clothing! The ointment you are buying now is not suitable to what you are wearing.
"Have you met a merchant who can bring you great wealth? Doesn't this merchant prefer your lewdness? Is this why you are now clothed so modestly? Oh, but if he truly is a chaste man who loves modesty, then woe to him! Into what has he fallen? He has fallen into a gulf that will swallow up his merchandise. Take the advice of someone who desires your well-being. Send away your many lovers, who have never helped you since your youth. Seek one husband who can make you pure."
The sinful woman answered, "Do not stop me, sir. Do not stop me with your questioning. I asked you for ointment, not freely, but I will pay you its value willingly. Take my gold, as much as you ask for, and give me the precious ointment. Take that which endures not – my gold – and give me that which does. I will go to Him Who endures, and purchase that which endures.
"What you have said about a merchant – yes, a man has met me today Who bears riches in abundance. He has robbed me and I have robbed Him. He stole away my transgressions and sins. I have robbed Him of His wealth. What you have said about a husband – yes, I have won to myself a Husband in heaven, Whose dominion stands forever, and of His kingdom there will be no end."
Satan Tries to Stop Her
The woman took the ointment and went quickly. Satan saw her. At one moment, he rejoiced, but in another moment, he was enraged and grieved greatly. He rejoiced because she carried perfumed oil. But then he saw her dressed so modestly, and he was afraid. He clung to her and followed her closely, just as a thief follows a merchant. He listened to her murmur softly. He closely watched her eyes to see where her glances were directed. He moved close to her feet in order to mark her direction.
Satan is very crafty. He learns our aim from our words. Therefore, the Lord taught us not to raise our voice when we pray, that the Devil may not hear our words, draw near, and become our adversary.
When Satan saw that he could not change her mind, he disguised himself as a man, and stood in a crowd of young men, like her previous lovers.
Satan said, "Tell me, where you are going? Why are you in a hurry? You seem to hurry more than usual. What is the meaning behind your meekness? Your soul is as humble as a maidservant's. Instead of garments of fine linen, you wear filthy weeds. Instead of bracelets of gold and silver, you do not even wear rings on your fingers. Instead of decorated sandals, you are not even wearing worn shoes. Reveal to me the reason for your actions, because I do not understand the change that has come over you. Has one of your lovers died? Are you rushing to bury him? We will go with you to the funeral and share in your sorrow."
The sinful woman answered, "Yes, you have rightly said that I go to bury the dead. My sins have died and I go to bury them."
Satan replied, "I tell you, O woman, that I am the first among your lovers. I will give you more gold than before."
The woman said, "I am tired of you and you are no longer my lover! I have won a Husband in heaven, Who is God. His dominion stands forever and of His kingdom there will be no end. I will say it again. I have been a slave of Satan from my childhood until this day. I was a bridge and he walked all over me. I destroyed thousands of men. My eye-makeup blinded my eyes. I was blind among the many whom I blinded. I became blind and was ignorant of the One Who gives light to the blind.
"But now! I go to receive Light for my eyes, and by that Light to give light to many. I was bound and did not know that there is One Who overthrows idols.
Behold! I go to have my idols destroyed so that I may destroy the recklessness of many. I was wounded and did not know that there is One who heals and binds up wounds. Behold, I go to have my wounds bound."
Satan's Plan
When Satan heard her wise words, he groaned and wept. He cried out, "I am conquered by you, O woman! I do not know what I shall do!"
Once again, Satan realized that he could not change her mind. He began weeping for himself and said, "My source of pride has perished, the pride of all my days. How can I lay a trap for this woman who ascends on high? How can I shoot arrows at this woman, whose wall is unshaken? I will go into Jesus' presence, since she is about to go there. I will say to Him, 'This woman is a harlot.' Maybe He will reject her and not receive her. Then I will say to Him, 'This woman who comes into Your presence is a prostitute. She has led men captive through her prostitution. She has been polluted since her youth. You, O Lord, are righteous. Everyone flocks to see You. If people see You speaking with a harlot, they will run away from You and no one will greet You.'"
Satan said these things at first, but then began to wonder, "How will I enter into Jesus' presence? There are no secrets with Him. Everything is known and revealed to Him. He knows me. He knows who I am. If even by chance He rebukes me, I am undone. All my tricks will be wasted. Since I cannot go to Jesus, I will go to Simon. I will put these thoughts in his heart. I will say to him, 'Simon, tell me about this Man in your house. Is He really a righteous man or a friend of the wicked?'"
Simon heard the words of the evil one and replied, "From the day I first saw Him, I have not seen any lewdness in Him. Rather, I see quietness, peace, and humility. He heals the sick without expecting any reward in return. He cures diseases freely. He stands by the grave, calls out, and the dead rise. Jairus asked Him to raise his daughter to life, trusting that He could. As He went on the way, He healed a woman, who touched the hem of His garment. Her bitter pain left her at once.
"He went into the wilderness and had compassion on the hungry. He made them sit down on the grass and fed them out of His mercy. In the boat, He wilfully slept, and the sea arose against the disciples. He rose and rebuked the wave and wind, and there was a great calm.
"The widow, left alone, followed her only son to the grave. He consoled her, gave him to her, and gladdened her heart. By His voice, He healed the blind and mute man. He cleansed the lepers by His word. He restored strength to the limbs of the paralyzed. He opened the eyes of the blind man, who was afflicted and weary, and he saw the light. For two others who sought Him, He opened their eyes.
"As for me, I have heard about the fame of the Man, and I invited Him to bless my possessions, and to bless my flocks and herds."
Satan answered Simon, "Do not praise a man at his beginning, until you learn his end. Until now this Man has been sober and does not take pleasure in wine. If, by the time He leaves your house, He does not speak with a harlot, then He is a righteous man."
Satan said these things cunningly to Simon. Satan then stood back and watched what happened next.
At Simon's House
The sinful woman, full of her transgressions, came standing by the door of Simon's house. She clasped her arms in prayer and wept at the door saying, "Blessed Son, Who descended to the earth for the sake of man's salvation, do not close Your door in my face. You have called me and, behold, I come. I know that You have not rejected me. Open for me the door of Your mercy, that I may enter, O Lord, and find refuge from the evil one and his hosts! I was a sparrow and the hawk pursued me. I fled and took refuge in Your nest. I was a heifer and the yoke burdened me. I will return to You. Lay upon me Your yoke, that I may take it on me, and work with Your oxen."
Simon, the master of the house, looked and saw the woman. The colour of his face changed and he addressed her saying, "Get out of here, harlot, for the Man who visits this house is a righteous man. His friends and companions are blameless. Wasn't it enough for you to corrupt our whole town? You corrupted the chaste without shame. You robbed orphans and did not so much as blush. You plundered the goods of merchants without shame."
The woman answered Simon and said, "If there is anyone at your feast who wishes me to come in, He will call for me."
Simon closed the door and stood afar off. He lingered a long time and did not tell anyone at the feast about the woman at the door. However, He, Who knows what is hidden and secret, signalled to Simon and said, "Come here, Simon. Is anyone at the door? Whoever it is, open for him and let him come in. Let him receive what he needs and then go. If he is hungry, behold, in Your house is the Bread of Life. If he is thirsty, behold, the Blessed Fountain is in your dwelling. If he is sick and asks for healing, behold, the Great Physician is here. Allow sinners to behold Me. For their sakes, I humbled Myself. I will not ascend to heaven, to the place from which I came down, until I bring back the sheep that wandered away from the Father's house. I will lift the sheep on My shoulders and carry it to heaven."
Simon answered and said, "My Lord, this woman who stands in the doorway is a harlot. She is lewd and polluted from her childhood. You, My Lord, are a righteous man and everyone is eager to see You. If men see You talking with a harlot, they will leave You and no longer greet You."
Jesus replied, "Whoever it is, open, and let her come in, and you will not bear any of the blame for this. Though her sins are many, I ask you to receive her without rebuke."
Simon returned to the door, opened it, and told the woman, "Come in and do as you will."
The sinful woman, full of transgressions, came forward and stood by His feet. She clasped her arms in prayer and said, "My eyes have become like streams that do not stop watering the fields. Today, they wash the feet of Him Who seeks after sinners. This hair, abundant since my childhood – do not prevent it from wiping this holy body. This mouth that has kissed the lewd, do not forbid it from kissing the body that forgives transgressions and sins."
Simon stood afar off to see what He would do to her. He Who knows the secrets of the heart signalled to Simon and said to him, "Simon, I will tell you your thoughts concerning the harlot. In your heart you said, 'I called this Man righteous, but the harlot kisses Him. I invited Him to bless my possessions, but the harlot embraces Him.' Simon, there was a certain creditor who had two debtors. One owed five hundred denarii, and the other fifty. And when they had nothing with which to repay, he freely forgave them both. Which of them ought to thank Him more? The one who was forgiven five hundred or he who was forgiven fifty."
Simon answered and said, "He who was forgiven five hundred ought to give greater thanks."
Jesus said to him, "Actually, you are he who owes five hundred, and this woman owes fifty. Simon, I came into your house and you did not bring water for My feet. This woman, whom you called a harlot, who was defiled since her childhood, washed My feet with her tears. She wiped them with her hair. Should I send her away without receiving forgiveness? Most assuredly I say to you, I will write of her in the Gospel."
Then He looked to the woman and said, "Go. Your sins are forgiven and all your transgression covered."
+ + +
May our Lord account us worthy to hear Him say, "Come, enter, you blessed of My Father, inherit the kingdom made ready for all who will do My will and observe My commandments."
Glory to Him! May His mercy rest upon us at all times! Amen! Amen!