Christian Unity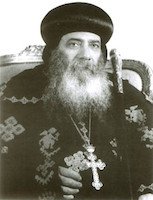 A speech given by His Holiness Pope Shenouda III in the International Week of Prayer for Christian Unity, St. Mark's Cathedral, Cairo, 1974. These words of wisdom still ring true to this day. We pray for the unity of Christ's Church.
In the Name of the Father, the Son, and the Holy Spirit, One God, Amen.We thank our Lord and Master Jesus Christ, who has granted us this opportunity to gather in church to pray for its unity and solidarity, and for us to become one in Him.
Christian Unity and God's Will
"And there will be one flock and one Shepherd." (Jn 10:16) In His last prayer in Gethsemane, our Lord said: "They all may be one, even as you Father, are in me, and I in You, that they also be in Us, so that the world may believe that You have sent Me." (Jn 17:21-24). What does that mean?It means that Christian unity is essential for faith and evangelism. The mere existence of so many Christian divisions and factions is the greatest stumbling block to the rest of the world. How could they believe while the truth appears lost amidst controversy and contradiction between various churches?
"That they may be one… So that the world may believe…" and listen to that comparison and what a comparison it is! "That they may be one just as We are one." (Jn 17:22) On His way to Golgotha, the Lord's sole concern was the Church's unity. He had given a commandment and a payer to His disciples. The commandment is: "To love one another as I have loved you. Greater love has no man than this, that a man lay down his life for his friends." (Jn 15:13) The prayer is that: "they may be one even as We are one."
Church Unity is a Natural State
We all know that the Church is the Body of Christ. Christ has one body. He is the head, and we are all the body. It cannot be such a mutilated body. The Church is Christ's bride. Christ has one bride… one Church. "I am the Vine, and you are the branches." (Jn 15:5) One vine – one Church – we are all branches.
Church Unity is an Ecclesiastical Fact
In the Creed we say: "Truly we believe in One, Holy, Universal and Apostolic Church." Therefore, one Church it must be; it gathers all, and it is Holy.If we say 'many churches', we would have broken our Creed. The plural word "churches" is mentioned in the Bible in a geographical sense only. So, it is one Church, no matter where it exists.
Church Unity is a Historical Inheritance
"…those who believed were of one heart and one soul." (Acts 4:32) We also find lots of delightful expressions about this "One Church" in St. Paul's plea for unity in his epistle to the Ephesians: "I, therefore, the prisoner of the Lord, beseech you to have a walk worthy of the calling to which you were called, with all lowliness and gentleness, with longsuffering, bearing with one another in love, endeavoring to keep the unity of the Spirit in the bond of peace. There is one body and one Spirit, just as you were called in one hope of your calling, one Lord, one faith, one baptism. One is God, Father of all, who is above all, and through all, and in you all." (Eph 4:1-6) Christianity started as one Apostolic Church in Jerusalem, and it will end also as one Church in the eternal everlasting life, gathering not only those who believed, but also the angels… in the Heavenly Jerusalem.
Unity is Love
If we are divided, then we don't love one another… "This is My commandment, that you love one another as I have loved you." (Jn 15:12) If we have this kind of love, the world will see Christ in us. "God is love, and he who abides in love abides in God and God abides in him." (I Jn 4:16) Let us love one another first, then in an atmosphere of love we can discuss theological matters. Divisions in the Christian world happened not because of theological differences, but because we abandoned the love we had in the beginning. Every church looked for the others' faults. Theologians studying the nature of Christ, which is full of love and peace, became divided and excommunicated one another. Would that we loved one another without arguments about matters that we know we cannot fully comprehend. St. Paul says, "I could not address you as spiritual men… there is jealousy and strife among you, are you not of the flesh and behaving like ordinary men?" (I Cor. 3:1-3) Unity is love. We do not have to compromise the faith, but with love, discuss it and reach unity.
Unity is Strength
Divisions have weakened our Universal Apostolic Church. Christians united with love can be compared with bricks united in one building; one Church.Christianity nowadays confronts waves of atheism, materialism and permissiveness, which could destroy the world. The modern world does not favour an Orthodox, Protestant or Catholic approach to life. All could be lost. Christian Unity will give the Church strength and solidarity against the permissiveness, materialism and unbelief of our time.
Unity is Humility
We cannot reach unity unless we humble ourselves. Without humility, we could waste time being busy finding who is going to be the head of a united church, and which church is going to lead the rest. When the disciples had these thoughts, our Lord said to them:"Yet it shall not be so among you; but whosoever desires to become great among you, let him be your servant. And whomever desires to be first among you, let him be your slave – just as the Son of Man did not come to be served, but to serve, and to give His life as a ransom for many." (Matt. 20:26-28)St. Paul addresses us saying, "Fulfill my joy by being like-minded, having the same love, being of one accord, of one mind. Let nothing be done through selfish ambition or conceit, but in lowliness of mind let each esteem others better than himself. Let each of you look out not only for his own interests, but also for the interests of others." (Phil. 2:3) Then he reminds us of the ultimate humility in Christ Himself, adding: "Let this mind be in you, which was also in Christ Jesus, who, being in the form of God, did not consider it robbery to be equal with God, but made Himself of no reputation, taking the form of a servant, and coming in the likeness of men. And, being found in the appearance as a man, He humbled Himself and became obedient to the point of death, even the death of the Cross." (Phil. 2:2-8) If we are seeking Christian unity, then let us have such Christ-like humility.
Unity is the Work of the Holy Spirit
We, dear brethren in Christ, have not yet reached this unity, but we are praying for it now. We believe that Church unity is the work of the Holy Spirit and the result of God intervention in His church. Do not think that unity can be achieved merely by our strength or our knowledge of the Bible. It cannot be achieved by our wit or theological ability. "Unless the LORD builds a house, they labor in vain who build it." (Psalm 127:1) Unless the Lord unites the Church, ecumenical conferences and theological meetings will be held in vain. Let us pray that God intervenes and pours upon our hearts His love and humility, so that when we open our mouths, we speak His word.In our ecumenical meetings, we should talk about actual beliefs, regardless of what happened in the past. We must avoid complex and vague expressions. In spite of all the problems that might arise about history, rites, ecumenical councils and so on, we shall achieve good results with love, good spirit and determination. We shall achieve this together. It is God's will.The whole Christian world is anxious to see the Church unite. Christian people – being tired of divisions and dispersion – are pushing their Church leaders to do something about Church unity, and I am sure that the Holy Spirit is inspiring us.Christian unity will be a magnificent universal achievement for generations to come. Let us pray that we unite in the faith that was delivered to us by our great fathers who kept it, defended it, and sacrificed their lives for it. Let us pray that God works in our hearts and thoughts so that we fulfill His will.