LIFE OF HUMILITY
Humility was a fundamental condition for her of whom the Lord of Glory would be born.
It was indispensable that He would be born from a humble person; who could bear the glory of the divine Incarnation but her? The glory of the coming of the Holy Spirit in her? The glory of the nativity of the Lord from her? The glory of all the generations blessing her? The humility of Elizabeth in front of her when she said to her: "But why is this granted to me, that the mother of my Lord should come to me?" (Luke 1:43). Likewise to bear the glory of all the apparitions of angels, and the worship of the Magii in front of her Son, and the many miracles which happened by her son in the land of Egypt, and the light of this Son in her bosom.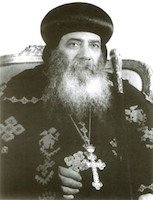 A verse repeated twice in the Proverbs due to its important says, "There is a way that seems right to a man, but its end is the way of death." (Prov 14: 12; 16: 25) It probably means that a person should not rely on his own view and understanding of matters, for he may be wrong or think a certain way good, while it is harmful. Therefore, "Lean not on your own understanding" (Prov 3: 5), nor lay your whole trust on your own thoughts and trends, nor fulfill all your desires, for though they may seem sound, they turn to your trouble.
The Scripture further blames a person who is wise in his own eyes and follows his own thoughts, saying, "Do you see a man wise in his own eyes? There is more hope for a fool than for him." (Prov 26:12)